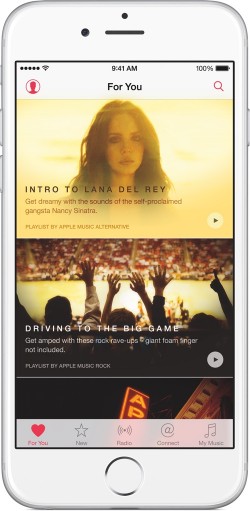 Government officials in New York and Connecticut are investigating the deals Apple and major record companies established for Apple Music to determine whether there were any antitrust violations, reports The New York Times. Eric T. Schneiderman and George Jepsen, attorneys general in the two states, are suspicious Apple tried to convince record labels to abandon free, ad-supported music services like those offered by Spotify and YouTube.
The attorneys general wanted to know whether Apple pressured the music labels — or whether the labels conspired with Apple and one another — to withdraw support for popular "freemium" services offered by companies like Spotify in favor of Apple's paid music subscriptions.
Spotify offers a freemium ad-supported music tier that lets listeners access music at no cost, provided they also listen to ads. Apple Music does not include such a free tier, instead requiring all users to pay $9.99 per month for an individual plan or $14.99 per month for a family plan.
There have been rumors suggesting Apple asked record labels to discontinue allowing services like Spotify to offer music at no cost, which has led to scrutiny from the European Commission, the United States Department of Justice, and the United States Federal Trade Commission. Apple Music would, of course, be a much more appealing option should other services not be able to offer music for free, but it remains unclear whether Apple executives did indeed push labels to change their deals.
According to The New York Times, Universal Music Group is cooperating with the investigation and has told the attorneys general via letter that it has no agreements with Apple or other record labels that "impede the availability of free or ad-supported music streaming services" and it has no intention to enter any such agreements.
In a statement, Connecticut attorney general George Jepsen said he was satisfied with the response he received from UMG. "We will continue to monitor that market to ensure that consumers and competition are protected," he said. Schneiderman's office made a similar statement, saying "It's important to ensure that the market continues to develop free from collusion and other anticompetitive practices."
Jepsen and Schneiderman have been involved in Apple's affairs several times in the past. Jepsen led a lawsuit against Apple during the e-book price fixing scandal and has questioned Apple about Apple Watch privacy concerns. Schneiderman has been involved with smartphone anti-theft measures and was one of the main proponents of a "kill switch" for smartphones.
Apple Music debuted yesterday at Apple's Worldwide Developers Conference. It will launch to the public on June 30 alongside iOS 8.4.

Source: MacRumors