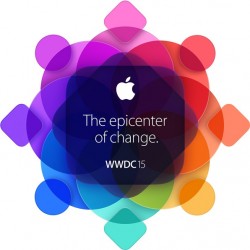 Apple's annual Worldwide Developers Conference (WWDC) kicks off today at the Moscone West convention center in San Francisco, with the event headlined by the traditional keynote address beginning at 10:00 AM Pacific Time / 1:00 PM Eastern Time.
In line with tradition, Apple is expected to provide the first looks at iOS 9 and OS X 10.11, with the company also announcing a fresh push into streaming music led by a new Apple Music subscription service and a revamped iTunes Radio. Apple is also expected to debut new tools allowing developers to build native Apple Watch apps and perhaps make some additional announcements related to Apple Pay and HomeKit.
Apple is providing a live video stream on its website and via Apple TV.
In addition to Apple's video stream, we will be updating this article with live blog coverage and issuing Twitter updates through our @MacRumorsLive account as the keynote unfolds. Separate news stories regarding the event announcements will go out through our @MacRumors account.
Sign up for our newsletter to keep up with Apple news and rumors.
Live Updates – No need to refresh

Loading live updates…

Source: MacRumors