Apple has changed security settings in iOS 8.3 that prevent file managers and transfer utilities such as iFunBox, iTools, iExplorer, iBackupBot and PhoneView from gaining access to app directories on an iPhone, iPad or iPod touch. The change breaks current versions of transfer utilities for OS X and Windows, forcing many developers to release new versions of their software with workarounds that restore at least partial sandbox access.
"iOS 8.3 ruined our freedom of controlling data in our installed Apps and Games," writes iFunBox in a Facebook post. "Apple blocked access of the entire sandbox directory of every installed App since iOS 8.3. Previously only writing is block in executable directory. Now we totally lost the control of Apps on our own devices. We are investigating the situation. Before there is a solution, iFunbox will fail to open data directory of any App if the device is not jailbroken."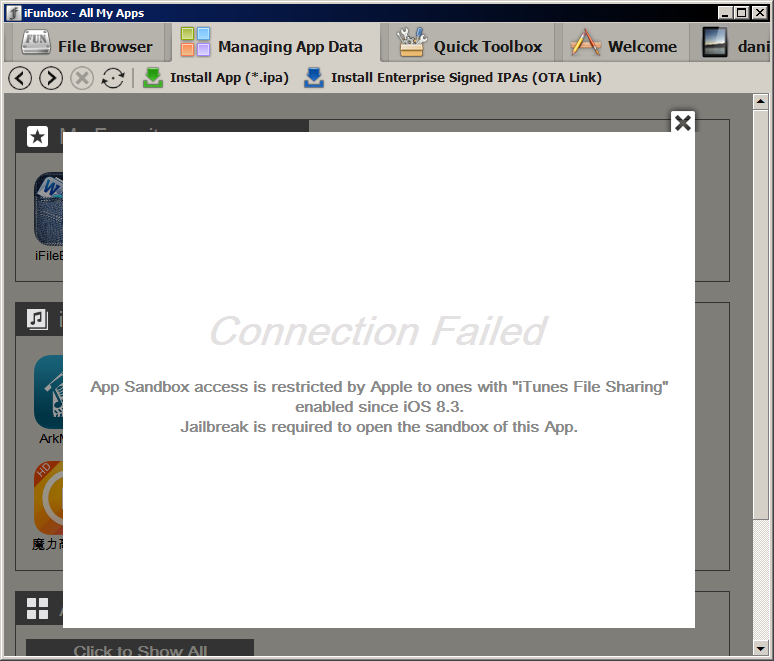 iFunBox was one of the first utilities to be updated over the weekend with a partial fix, with the latest version 2.95 enabling all apps with "iTunes File Sharing" enabled, such as iFileExpress or VLC player, to be opened for sandbox browsing per usual through the utility. Access to other apps will require jailbreaking. iFunBox 2.95 also allows any music file type, such as MP3, to be imported as a ringtone.
Macroplant, the developers of iExplorer, are still looking into the changes in iOS 8.3:
"We are currently investigating how the iOS 8.3 update blocked access to the Apps directory, and we are looking into ways around it. All iDevice transfer utilities seem to be experiencing this exact same blocked access in iOS 8.3, so it's not just a bug with iExplorer or iBrowse. Apple has definitely changed something with the way apps can be accessed in iOS."
The change does not affect users that jailbreak their iPhone, iPad or iPod touch, as doing so enables OpenSSH to be installed for complete filesystem privileges and command line access. File transfers between a jailbroken iOS device and Mac or PC can still be completed as usual, although keep in mind that no jailbreak is available for iOS 8.3 and downgrading is no longer possible after Apple stopped signing iOS 8.2 last week.

Source: MacRumors