During the night, Apple quietly began notifying some Apple Watch pre-order customers with updates on their order status, now confirming their packages were indeed shipping out to them, many with a confirmed delivery date for tomorrow's launch.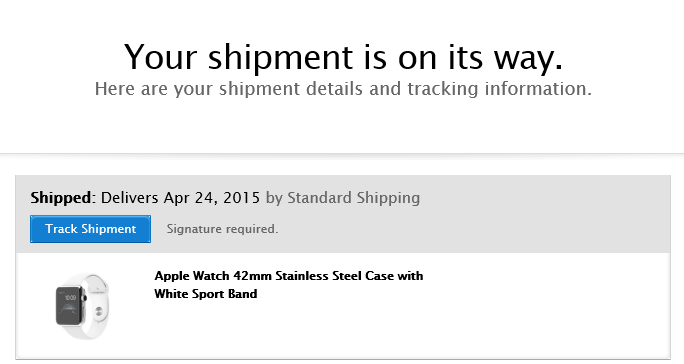 With the Apple Store's order status finally updated in tandem with a few early notifications customers have received from services like UPS, Apple Watch pre-order customers with a confirmed shipping status can now track their package through Apple's online store. Though yesterday's UPS notifications sent out to some customers focused mostly on areas in the south, this morning's official update from Apple unsurprisingly appears to blanket the entire country. There is no word on international confirmations yet, however.
Today's update comes after a week of slight confusion for most Apple Watch pre-order customers, with credit and debit card charges occurring on Monday and a handful of order status changes soon thereafter, but with most customers still left in the dark for the rest of the week despite early-morning pre-orders. This morning's news should come as a breath of relief for most customers who got in early on April 10, and Apple still promises that dispatch dates beyond 4/24 – 5/8 could be coming in earlier than expected, as well.

Source: MacRumors