Amid a decline in both U.S. and worldwide PC shipments, Apple has also seen a slight drop in its U.S. PC shipments in 2Q15, according to shipping estimates released today from Gartner. Apple shipped 1.92 million PCs during the second quarter of 2015, down from 1.97 million in 2Q14, marking a 2.5 percent decline.
Overall PC growth in the United States during the quarter was down 5.8 percent, with total estimated shipments at 15.1 million, down from 16 million in the year-ago quarter. With the exception of Lenovo, all of the top U.S. PC vendors saw declines in growth.
In the U.S., PC shipments totaled 15.1 million units in the second quarter of 2015, a 5.8 percent decline from the second quarter of 2014 (see Table 2). The decline was led by a double-digit decline of desk-based shipments, which offset single-digit growth of mobile PCs. Based on preliminary results, the desk-based PC shipment decline was the steepest since 2009 when the market was hit by the economic crisis.
During the quarter, Apple captured 12.7 percent of the market, down from 12.3 percent in 2Q14. Apple was ranked as the fourth largest PC vendor in the United States in 2Q15, based on Gartner's estimates, trailing behind HP, Dell, and Lenovo.


Market leader HP shipped nearly 4 million PCs during the quarter for a 26.2 percent share of the market, while Dell shipped 3.9 million for a 25.6 percent share of the market. Lenovo came in just ahead of Apple with 2 million PC shipments and 13.3 percent of the market, while Asus brought up the rear with shipments of 767,000 and a 5.1 percent share of the market.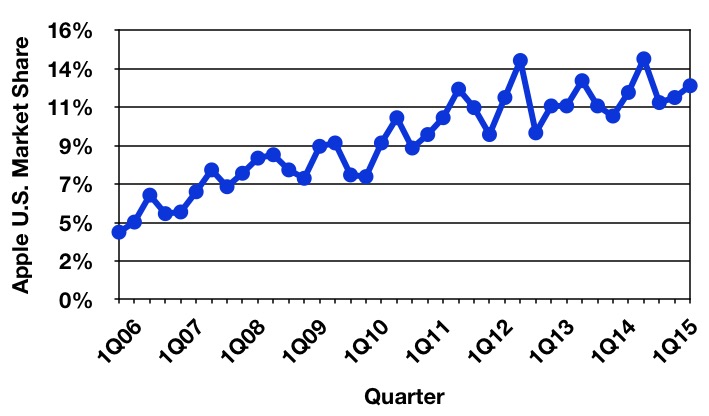 While U.S. PC shipments were down 5.8 percent, worldwide PC shipments saw an even steeper drop. Worldwide PC shipments during 2Q15 totaled 68.4 million units, a 9.5 percent decrease from 2Q14.
It's important to note that data from Gartner is preliminary and that the numbers can shift somewhat, sometimes dramatically. Last year, for example, Gartner predicted Apple shipments of 1.68 million and 10.6 percent market share in 2Q14, a number that was later revised to 1.97 million shipments and 12.3 percent market share.

Source: MacRumors