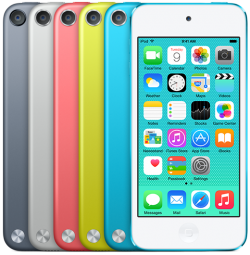 Apple is expected to announce a new iPod touch later this year, according to AppleInsider. The report, citing a source familiar with the plans, claims that the refreshed portable media player will likely have a similar design as the current model released over two-and-a-half years ago, and speculates that the next-generation device could have camera and processor improvements.
iPod sales have been declining for several years, becoming a largely insignificant part of Apple's product lineup, anchored by the iPhone, iPad and Mac. The company no longer reports iPod sales in its quarterly results after reporting 2.9 million units sold in Q4 2014. Apple has not refreshed the iPod touch since October 2012, when the portable media player was updated with an ultra-thin, colorful design, A5 processor and Lightning connector.
The report is entirely speculative about possible new features the next-generation iPod touch could have, including a 64-bit A7 processor, increased storage space, and improved iSight and FaceTime cameras. It would also make sense for the new iPod touch to support Apple Pay, which would require locked down NFC capabilities and a Touch ID fingerprint scanner.
If the report proves accurate, Apple could announce its next-generation iPod touch during its iPhone event in September or iPad event in October that it typically holds each year. It is possible that Apple may also quietly update the iPod touch through a press release or website update, given that iPods are no longer as important to Apple as in previous years.

Source: MacRumors