Apple today announced financial results for the second fiscal quarter and first calendar quarter of 2015. For the quarter, Apple posted revenue of $58 billion and net quarterly profit of $13.6 billion, or $2.33 per diluted share, compared to revenue of $45.6 billion and net quarterly profit of $10.2 billion, or $1.66 per diluted share, in the year-ago quarter.
Gross margin for the quarter was 40.8 percent compared to 39.3 percent in the year-ago quarter, with international sales accounting for 69 percent of revenue. Apple also declared an increased dividend payment of $0.52 per share, payable on May 14 to shareholders of record as of May 11. The company currently holds $193.5 billion in cash and marketable securities.
In addition to the increase in the dividend payment, Apple said it will once again expand its share repurchase authorization to $140 billion from $90 billion and the company says it expects to spend over $200 billion in cash under its capital return program by the end of March 2017.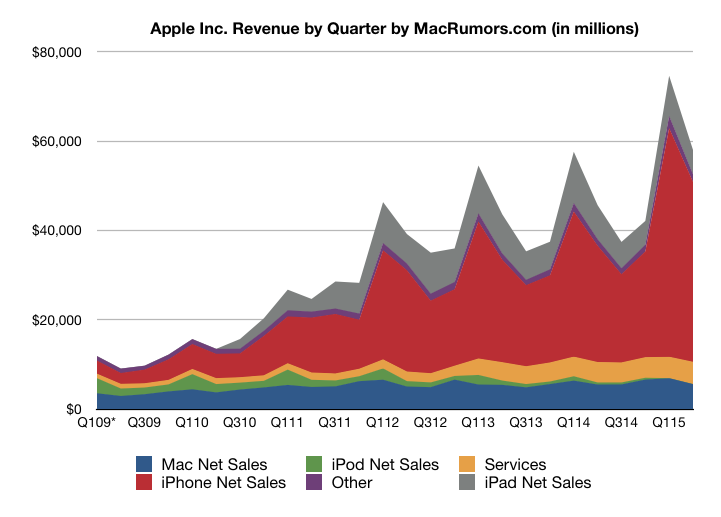 Apple sold 61.2 million iPhones during the quarter, up from 43.7 million a year earlier and a new March quarter record, while Mac sales were also strong with 4.56 million units sold, up from 4.1 million units in the year-ago quarter. iPad sales were down, however, falling to 12.6 million from 16.35 million.
"We are thrilled by the continued strength of iPhone, Mac and the App Store, which drove our best March quarter results ever," said Tim Cook, Apple's CEO. "We're seeing a higher rate of people switching to iPhone than we've experienced in previous cycles, and we're off to an exciting start to the June quarter with the launch of Apple Watch."
Apple's guidance for the third quarter of fiscal 2015 includes expected revenue of $46-48 billion and gross margin between 38.5 and 39.5 percent.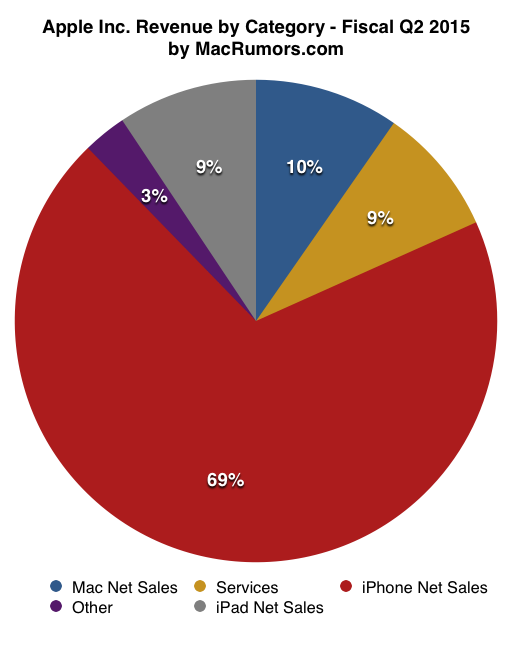 Apple will provide live streaming of its fiscal Q2 2015 financial results conference call at 2:00 PM Pacific, and MacRumors will update this story with coverage of the conference call highlights.

Source: MacRumors